The Virginia AGD and its components are dedicated to improving patient care through lifelong learning. That dedication is supported by the programs and events that assist AGD members to achieve their professional and educational goals.
Our calendar contains a current listing of Virginia AGD programs and events. Please be sure to check it on a regular basis as it will serve as the source for the latest information. If you have questions about a listed program or event, please contact the organizer located in the event listing. If you have general questions regarding the overall use of the calendar, please feel free to contact the Virginia AGD.
Click on the event title to find detailed information.
Oct
20
Fri
Fall 2017 MasterTrack

@ Protech Dental Studio
Oct 20 @ 8:30 am – Oct 22 @ 5:00 pm
MasterTrack Fall 2017
October 20th – 22nd, 2017
$1395 for the Weekend
Protech Dental Studio
1890 Preston White Drive
Reston, VA 20191
Friday, October 20th, "Benchmark Dentures to the Rescue!"
8:30 AM to 5:00 PM
Drs Stephen Alouf and Scott Miller
Removable Prostho, Code 670
8 Participation Credits
NOTE: Course credits are doubled after case presentations are made following session
$600 for a la carte registration
The Benchmark Denture is an Alternative Denture that can be fabricated in one visit. The Benchmark Denture is a preformed denture available in six arch sizes (A-F) and two tooth shades (A3-A0). This course will be a review of classic denture principles, clinical indications and techniques associated with the single visit denture fabrication process.  Advanced indications as an implant supported and temporary fixed detachable prostheses will also be discussed.
"Benchmark Dentures to the Rescue" will end with a live patient demonstration!
Drs. Alouf and Miller will perform their acrylic magic before your very eyes and prove what others say cannot be done.
Biography:  Drs Scott Miller and Stephen Alouf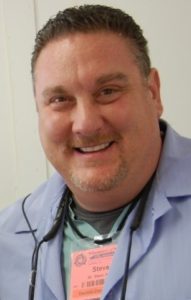 DDS VCU School of Dentistry1998
Co-Director: Denture Team VDA Missions of Mercy
Adjunct Professor, VCU School of Dentistry
Private Practice 1998-Present
Fellow of the ICOI & ICD
Master, Implant Prosthodontics Section of ICOI
Member ADA, VDA, ICOI, AACD, DOCS, Southeastern Academy of Prosthodontics
Past president, Piedmont Dental Society & Roanoke Valley Dental Society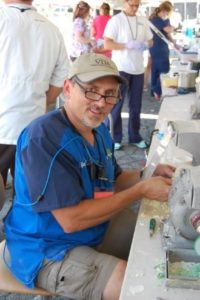 National Spokesperson for the American College of Prosthodontists
DDS VCU School of Dentistry 1995
Co-Director: Denture Team, VDA Missions of Mercy
Certificate of Prosthodontics, VCU School of Dentistry
Private Practice 1997 – Present
Member ACP, ICOP, ADA, VDA, Southeastern Academy of Prosthodontics
Saturday and Sunday, October 21st and 22nd, "Three Dimensional Smile Design, 3DSD"
8:30 AM to 5:00 PM
Ahmed Korayem Abdelrahman, BDS
Code 250, Operative Dentistry, 8 Lecture/8 Participation
NOTE: Course credits are doubled after case presentations are made the following session
$1,000 for a la carte registration
Evidence based smile design analysis and design principles
Variations in smile design and how to deal with it
Understanding the role of digital dentistry in aesthetics
Using simple protocol for 2D smile design with free and convenient software
Method of transferring 2D Smile Design based treatment plans into final results.
Understanding full 3-Dimensional workflow and how to produce smile design based restorations using CAD/CAM systems.
Day 1:
Smile Analysis, Design and Planning
Introduction for digital dentistry
DSD Workflow from analysis to final restorations (Clinical Workflow)
Workshop:
Smile analysis case (analogue)
Simplified protocol for 2D Digital smile design (keynote or powerpoint)
Day 2:
Smile Design, Science, and Sense
Smile Design Workflow – different ways for transferring 2D design into 3D design
Full 3D workflow (Novel approach)
Workshop:
3-Dimensional smile design
Integrating smile design with CAD/CAM software (optional)
Biography:  Dr. Ahmed Korayem Abdelrahman, BDS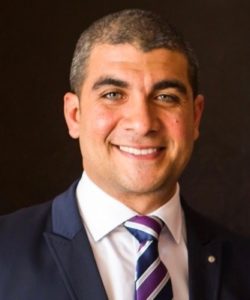 Dr. Ahmed Korayem Abdelrahman graduated from Faculty of Dentistry, Alexandria University, Egypt in 2001. He has more than 12 years experience and in the field of Cosmetic Dentistry,lecturing in many countries around the world in
"smile design and digital dentistry workflow."
He has developed a novel workflow for 3-Dimensional Smile design, co-working with Dr. Rami Gamil.  Dr. Abdelrahman is a Fellow of International College of Dentistry, a sustaining member of American Academy of Cosmetic Dentistry (AACD), an "FDI" CE speaker, and a trainer for Planmeca (E4D) Cad/Cam systems.
Nov
3
Fri
29th Annual Colonial Conference

@ Four Points by Sheraton
Nov 3 @ 8:30 am – Nov 4 @ 4:00 pm
29th Annual Colonial Conference
November 3rd –4th, 2017
$149 per course for Member Doctors, $99 for Staff
Four Points by Sheraton
9901 Midlothian Turnpike,
Richmond, VA
Friday,November 3rd, "Integrating Dental Sleep Medicine into Your Practice:
Tips for the Entire Team"
8:30 AM to 3:30 PM
Dr. Dan Taché
7 CE Credits, Code 160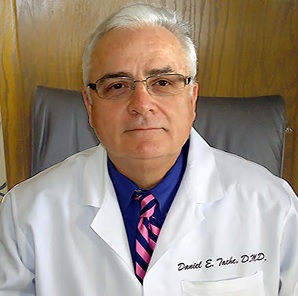 Dr. Dan Taché is a graduate of Tufts University School of Dental Medicine. After graduating from dental school, he completed an advanced General Dentistry Residency program at the Veterans Administration Hospital (VA)/University of Texas Dental Branch (UTDB). Dr. Taché attended an 18-month training program for the diagnosis and treatment of Myofascial Pain Dysfunction (MPD). Dr. Taché established a successful practice in Houston, Texas, where he emphasized Temporomandibular Joint Dysfunction (TMD), Myofascial Pain Dysfunction (MPD) and Sleep Apnea (SA). During that time, he maintained his position as an assistant clinical professor, lecturing on TMD/MPD. In 1999, Dr. Taché and his family moved back home to Appleton and became the first board-certified dentist in Dental Sleep Medicine in the state of Wisconsin.
He is married to his wife, Kathy and has four children. Dr. Taché enjoys playing classical guitar and woodcarving.
Course Description:
Sleep-related breathing disorders (SRBD) including obstructive sleep apnea (OSA), have become a significant health issue in the United States. It is estimated that 22 million Americans suffer from sleep apnea, but nearly 80% of the population at risk for OSA have not even been diagnosed.  The prevalence in a general medical or dental practice is even higher, approaching 33%.  (Westbrook, 2008)
Oral Airway Device Therapy (OAT) is a very effective treatment yet underrepresented opportunity for all dentists who are properly trained in OAT.  Effective and profitable management of the DSM patient requires that ALL members of the Dental Team are properly educated and have an identified role.
This course will provide practical suggestions from identification of patients at risk to more effective treatment of the SRBD patient.  A very important component of the course will address the management of side-effects of OAT.
Friday,November 4th, "Office Design! Plan for Success"
8:30 AM to 4:00 PM
Dr. Michael Unthank
7 CE Credits, Code 553
Dr. Michael Unthank is a registered professional architect, as well as a dentist, and the owner of Unthank Design Group, an award-winning planning, architecture, and interior design firm providing services exclusively to the dental professions. He has designed over two thousand dental offices throughout the United States, Canada, and New Zealand. He has written articles for and been featured in numerous dental publications and is an invited lecturer for major international dental meetings.
Course Description:
A well-planned dental office will have an immediate positive impact on virtually all facets of your practice.  It can improve your productivity while decreasing your stress and allow you to create an image or identity consistent with the patients you wish to attract.  It will communicate the quality of your services, inspire your patient's confidence and assure their comfort.  Finish your treatment day with more money in your pocket and less stress in your life with you and your team looking forward to tomorrow.  It costs more to build it wrong than to build it right!
Focus Topics
How to communicate the quality of your services through your practice image.
To identify the team necessary to achieve your goals.
The components of your Design Program: How You Intend to Practice.
Critical design criteria for selecting your practice location.
How to successfully develop your Reception, Business, Finance and Consultation areas.
To layer your office based on privacy.
The rationale for successful treatment room design with ergonomic consideration.
Planning criteria for the clinical support areas.
How to ideally arrange clinical support functions in relation to treatment.
The significance of the Americans with Disabilities Act in dental office design.
How to plan for the integration of technology.
What does the term "office plans" really mean?